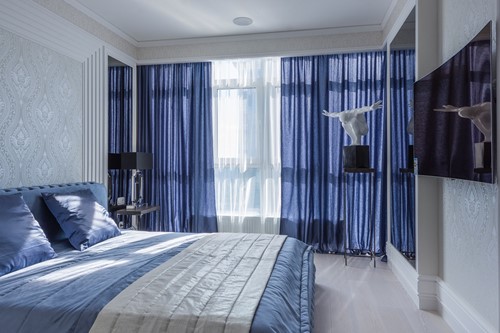 Blue and white have long been a favorite color combination for bedroom decor. If you're interested in finding ways to redecorate a bedroom, focusing on blue and white could be the perfect way to refresh the entire aesthetic. Here are some ideas for decorating a bedroom using blue and white:
Coastal style
To design a bedroom in blue and white, use the beach as your style guide. Coastal design style incorporates these two colors and other elements like distressed wood and other natural elements like bamboo and seagrass. Rattan furnishings and aquatic motifs blend perfectly with blue and white stripes to turn your bedroom into a breezy coastal retreat.
Farmhouse style
A farmhouse-style blue and white bedroom will feel straight out of a charming cottage. Pair antique metal and wood furnishings with casual, cozy textiles in a variety of textures. Opt for plaids and buffalo checks on window dressings and bedspreads. Mixing navy and white creates contrast, while sticking with a softer hue will add pastoral romance.
Monochromatic minimalism
While there's no rule against decorating with only one shade of blue, you can create a statement by decorating a monochromatic bedroom. Choose a bold and refreshing shade of blue like cyan and paint an accent wall to anchor the space. Repeat the same color throughout the room in accessories, accent furnishings and bedding. By carefully balancing the blue with white, you can achieve monochromatic minimalism that's anything but boring.
High contrast
If a two-color palette has you feeling stuck, try adding black for contrast. The right amount of black in the design will balance out softer textures and muted blue hues. Glossy black finishes on accent pieces like end tables are perfect punctuation for a blue and white bedroom, while a black platform bed creates a simple but classy edge.